Information Center
Remote Testing
Candidates
Remote Testing
Public Safety Testing is pleased to offer Candidates the ability to take their written exams in locations around the United States, scheduled on an individual basis. Each exam is set up specifically for a Candidate, to fit their needs for both ease of scheduling and to reduce the cost of application.
Regularly scheduled test events are available in Washington State, Alaska, and Wyoming. If you live outside of those states then you may be eligible to participate in Remote Testing and complete the written exam at an approved testing center in your area.
Important Information to know about Remote Testing
Some agencies do not allow Remote Testing. If you wish to test for an agency that does not allow Remote Testing, you must travel to one of PST's test locations to complete the required exams (written, physical ability, etc).
There will be an additional, non-refundable $15 processing fee for Remote Exams in addition to the standard PST testing fee which will be charged at the time of your registration on our website (example: $50 testing fee + $15 processing fee).
At certain testing centers the candidate is responsible for paying an additional test proctor fee directly to the test center. This fee is in addition to the cost of registration on the PST website.
The Physical Ability Testing (PAT) will not be administered at remote test sites. Some agencies will not accept your initial written score without a PAT and others will not accept your scores until you also have a passing PAT. If the agency requires a PAT score, you must complete a PST PAT within 90 days of your written exam. Be sure to check each agency's profile.
You must schedule your written exam at least ONE (1) week in advance of the requested test date. Failure to provide one-week notice may result in your exam being rescheduled.
Remote Testing Help
1. Select the agencies that you want to test for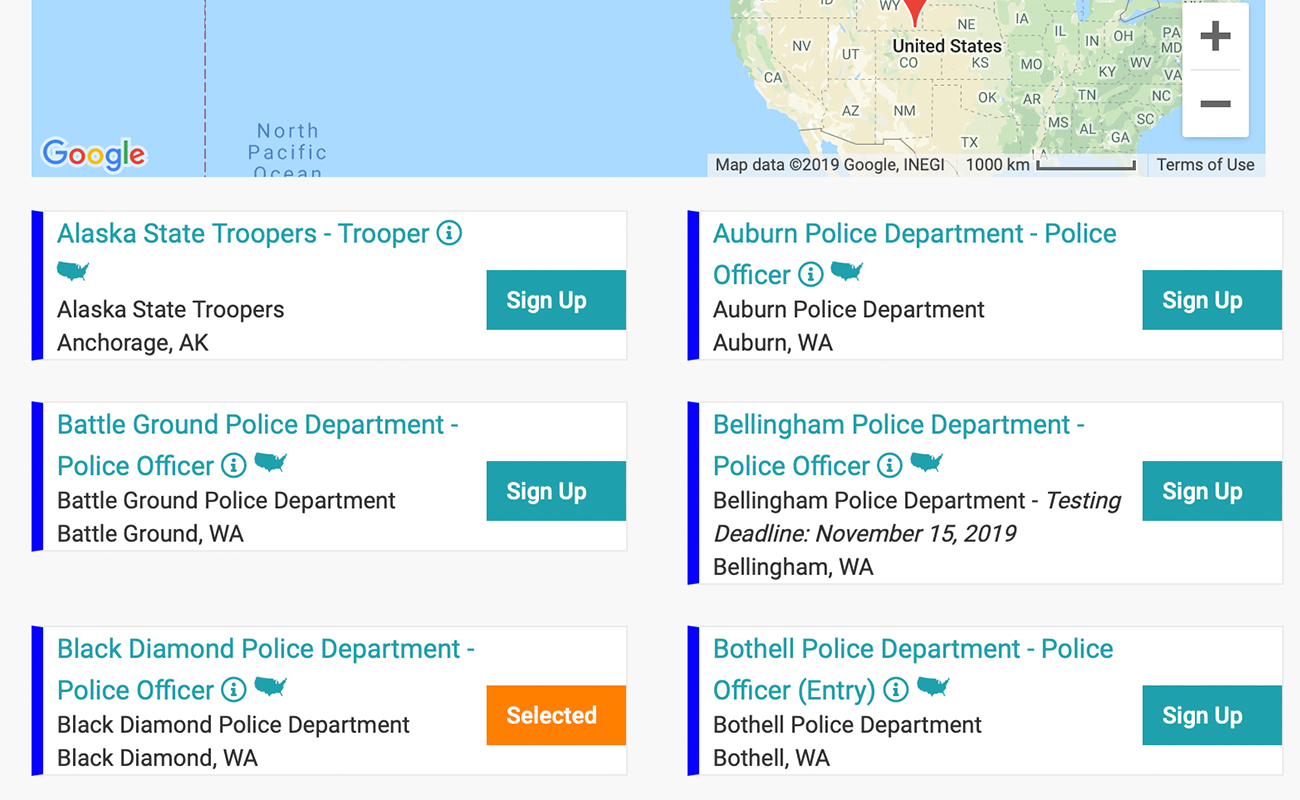 2. Go through the Qualifications and Self-assessment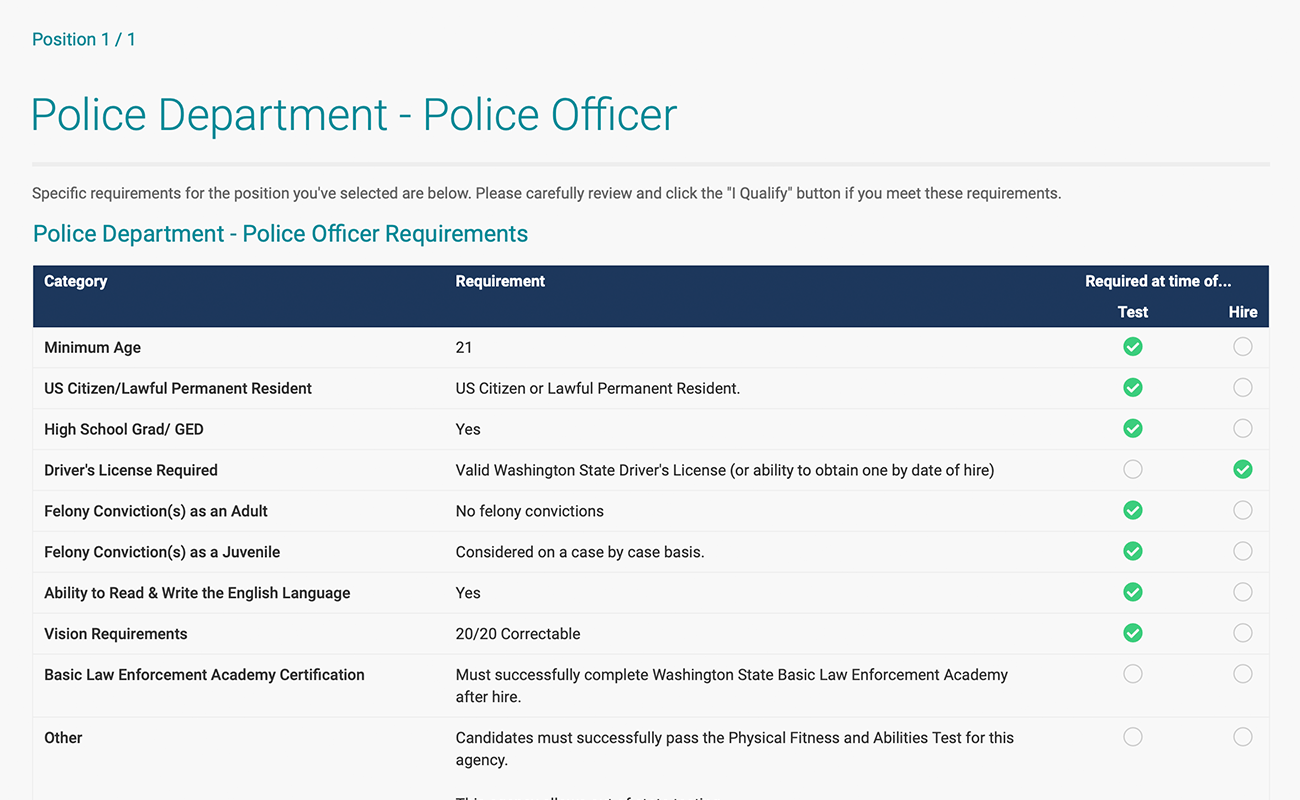 3. Click on Select a Testing Center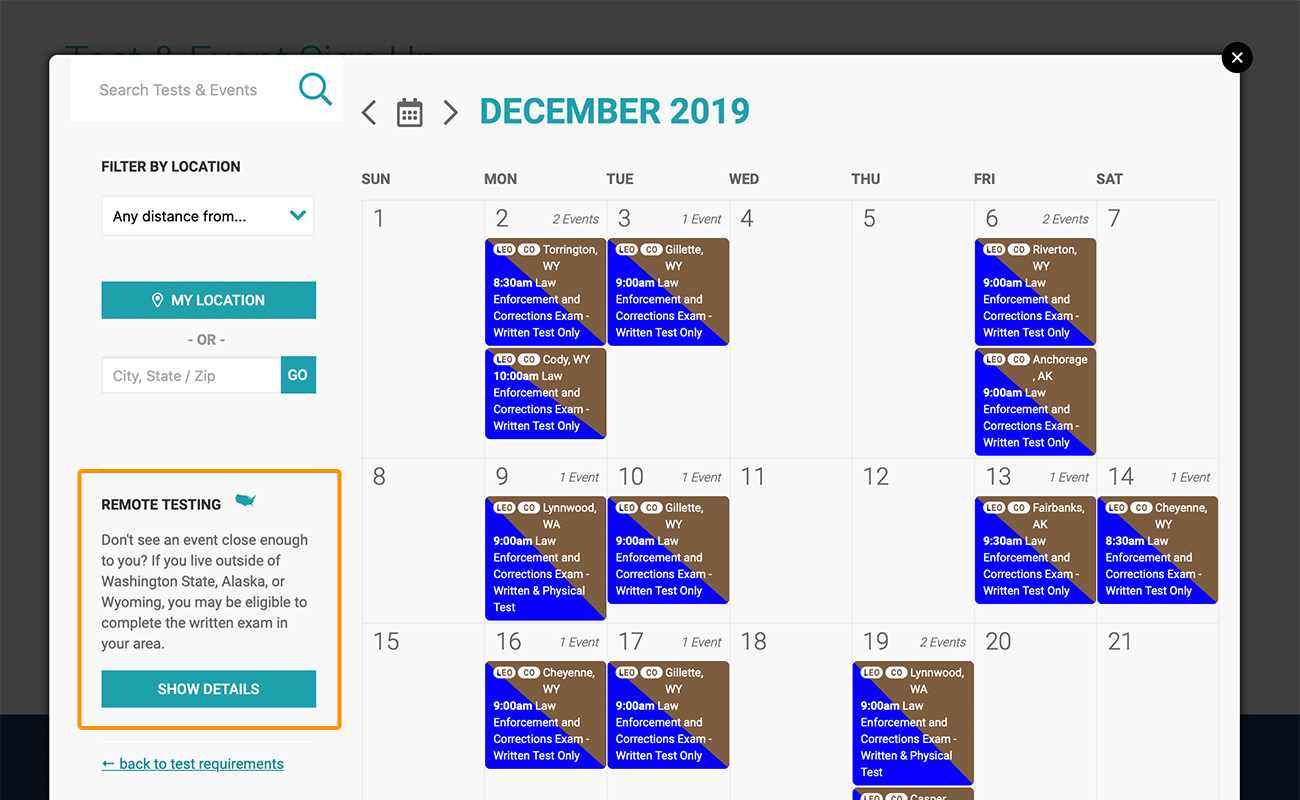 4. Review the information and click on "I understand the above and want to proceed with Remote Testing". You will then find a testing center near you.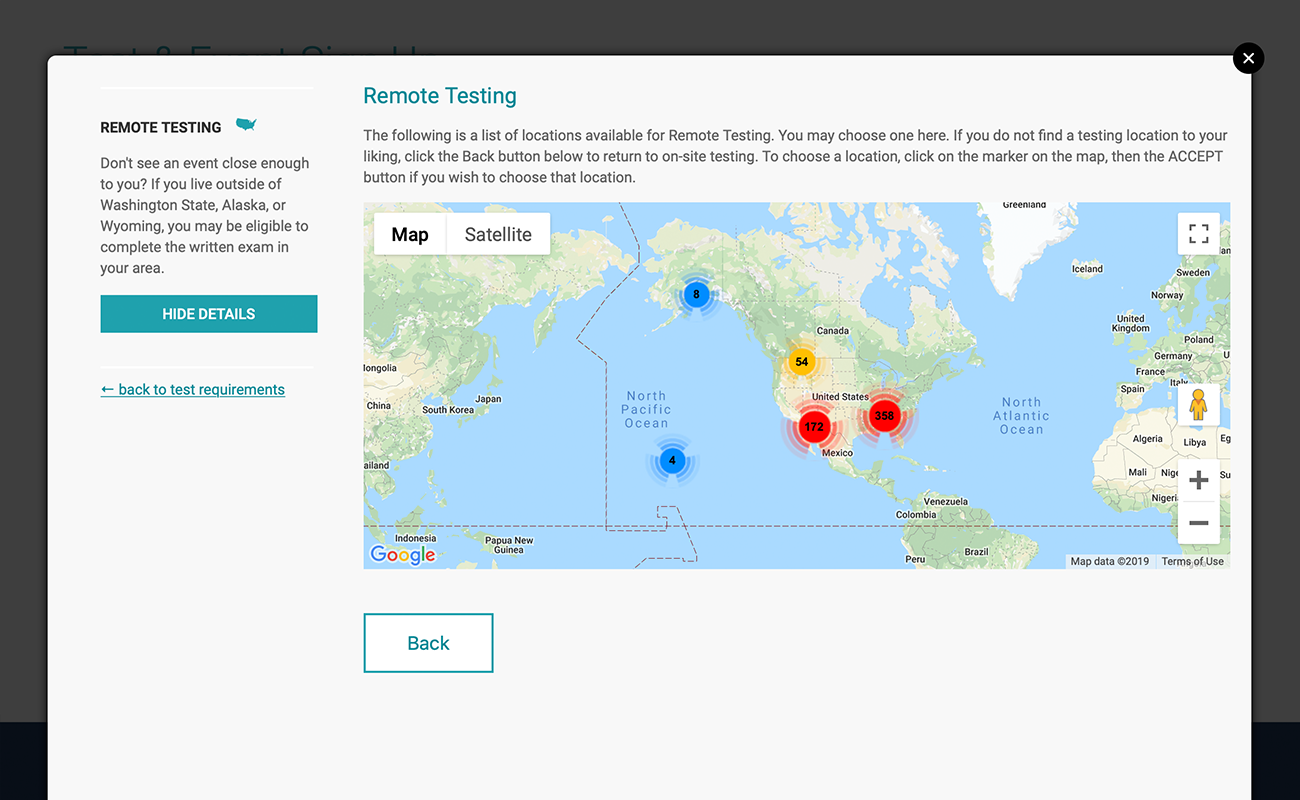 5. Continue and pay for the exam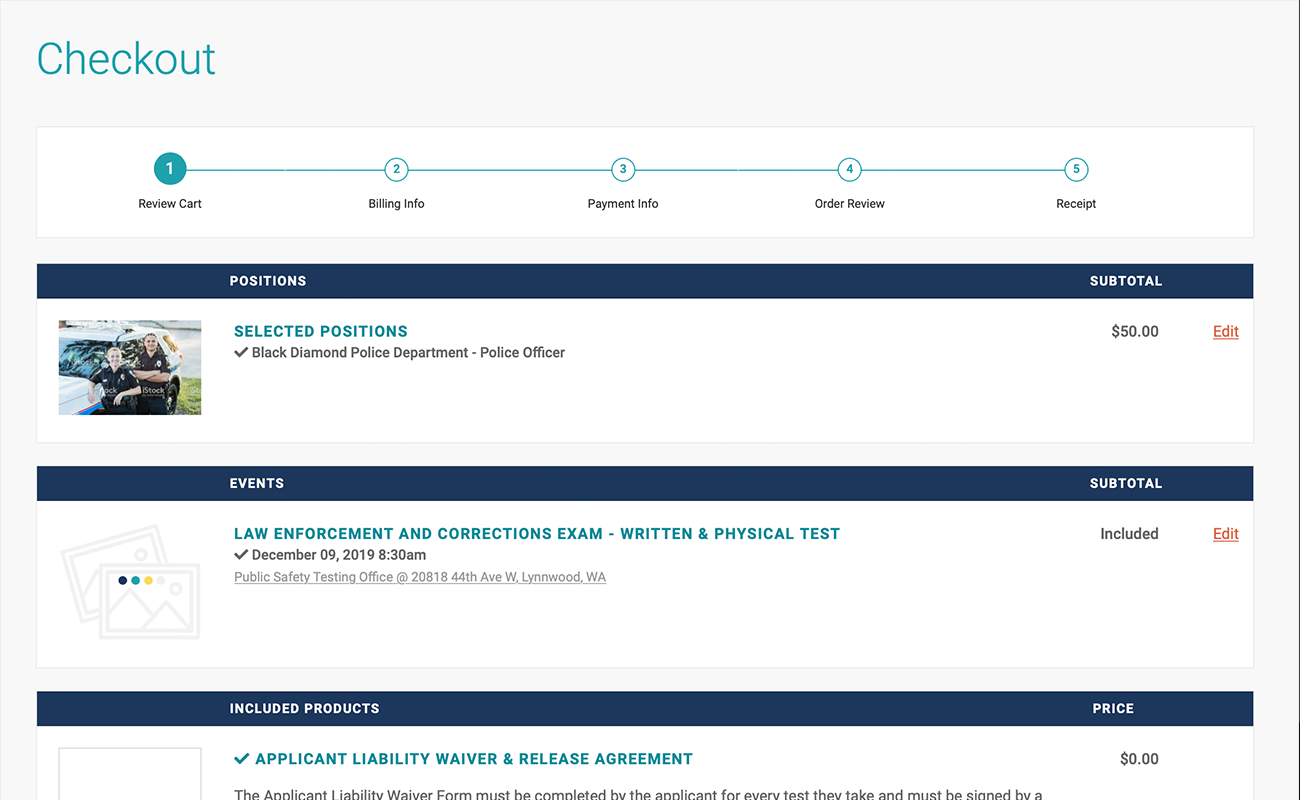 6. Go to your Remote Testing Registration page by going on your Dashboard and clicking on "Remote Testing Registration"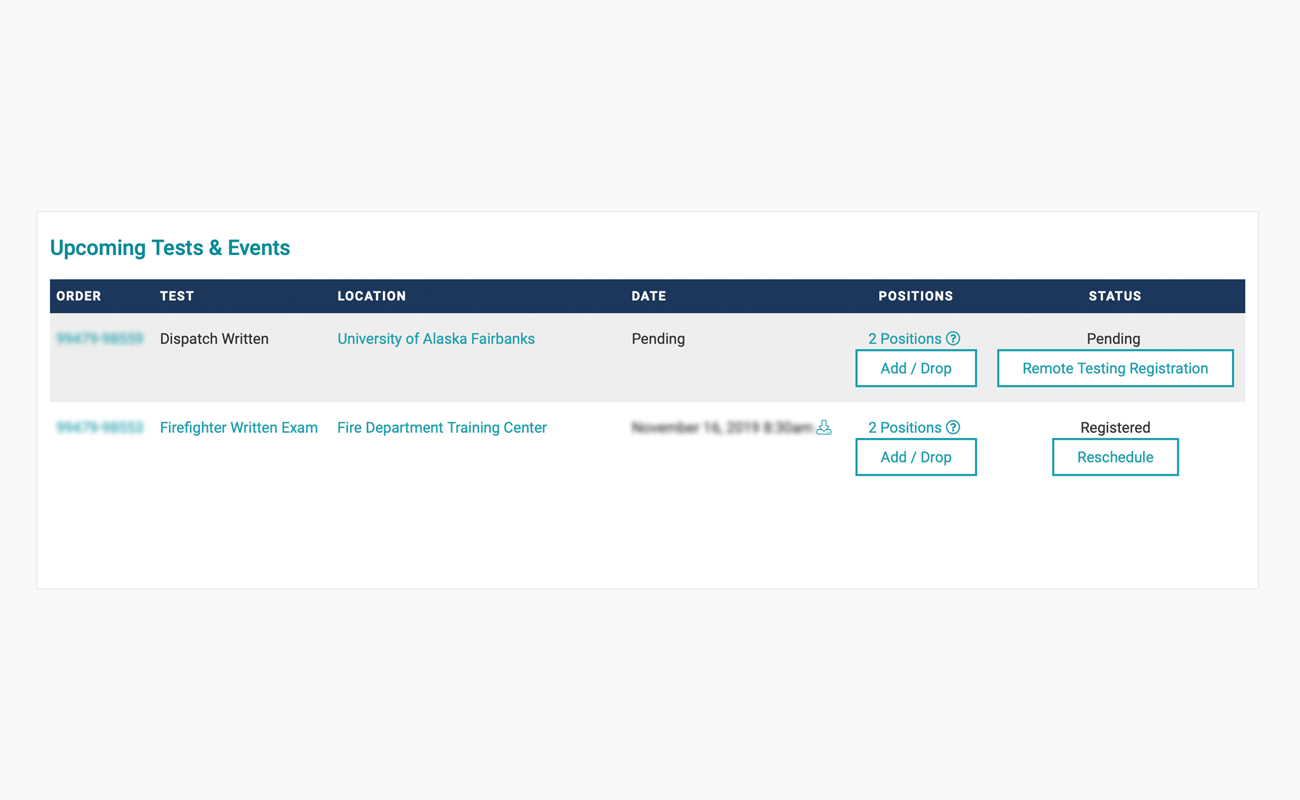 7. Contact your testing center and schedule a testing date and time with them. Your scheduled test date must be at least one week in the future. Once a date has been confirmed, click "I have contacted the testing center" and enter in the date and time.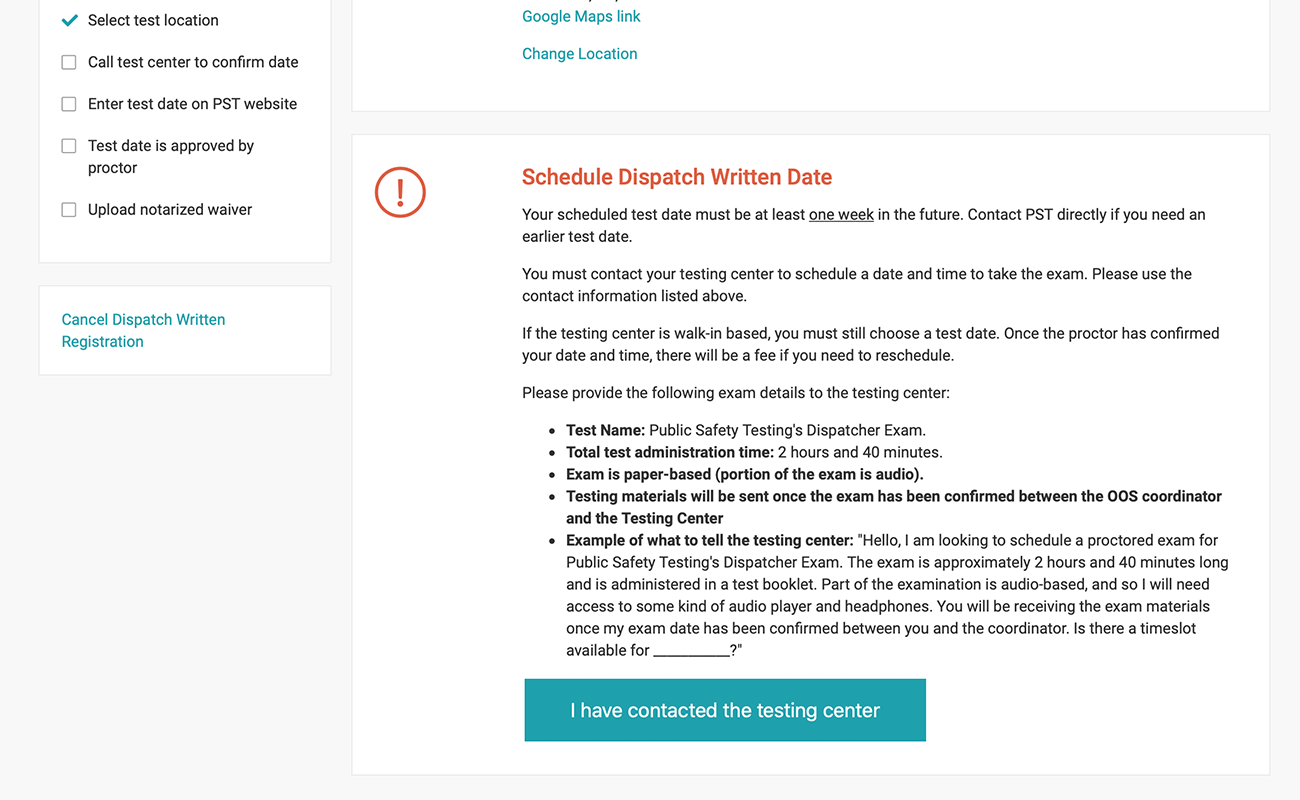 8. Download the Applicant Liability Waiver and Release Agreement and get it notarized. Upload the notarized waiver for PST's approval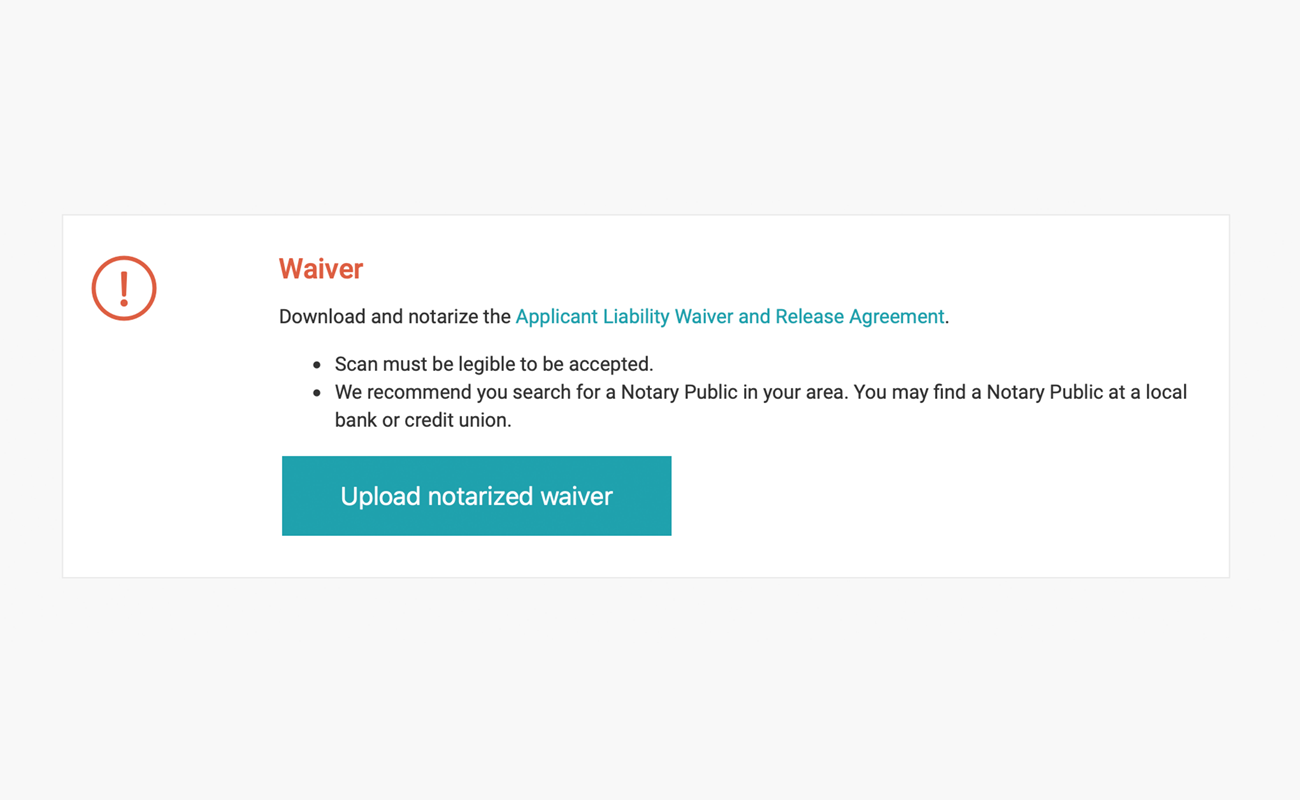 Click below to find Remote Testing Centers in your area.
---
Frequently Asked Questions
Remote Testing Coordinator
Hours: Monday - Friday; 8:30am - 5:00pm (Pacific Standard Time)
Email: RemoteTest@publicsafetytesting.com
Phone: 1-866-HIRE-911
Do all agencies allow Remote Testing?
How do I set up a remote test?
Is there a testing center near my area?
There are no testing centers near me that can proctor the exam. Can I have a proctor from a testing center not associated with the NCTA administer the written test?
Can you accommodate testing in a country other than the United States?
It looks like there is an event scheduled near me. Can I sign up for that one?
The testing center I have contacted will not let me set up an appointment until they have information about the test/the testing materials. What should I do?
When can I schedule my Physical Ability Test?
What is the deadline I need to take the test on in order to be considered for the next hiring cycle?
What do I need to do after setting up a test date?
If you don't see your question answered here, please contact the Remote Testing Coordinator.