Public Safety Testing
Study Guides & More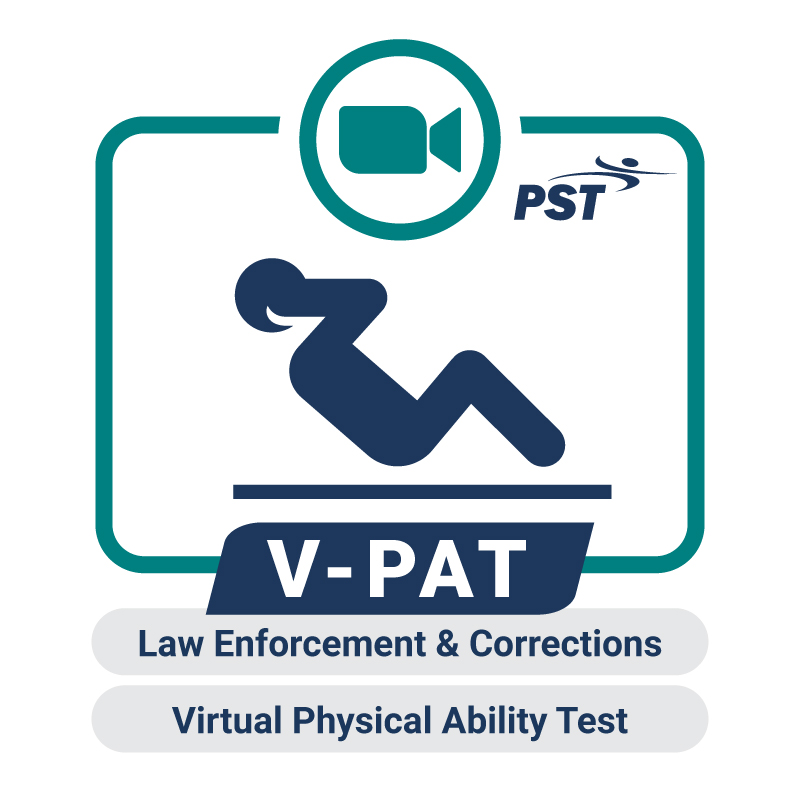 Virtual PAT
Take your WA State PAT at home!
29
***This test is non-refundable.***
EQUIPMENT REQUIREMENTS
You must have either a mobile smartphone, tablet, or computer (only one is required).

Your device will be used to record your performance so that PST can proctor and score your Physical Ability Test (PAT) Your device must meet the following requirements:

Laptop running macOS 10.15.4+
Laptop running WindowsOS 10+
iPhone 7 or later running iOS13+
Android device running Android OS 5+

A reliable internet connection. You device must be connected to the internet at all times. Your device should have a 4G+ or WiFi connection with at least 3 Mbps or better (broadband recommended). If you lose internet connection, your event may not upload and will not be scored. Check your speed before testing at www.speedtest.net. Data rates may apply.
TESTING CONSIDERATIONS
The V-PAT option is ONLY for those candidates testing for Washington State Law Enforcement and/or Corrections. Physical ability testing for other states' requirements are not supported.
Ensure you have all equipment and props required BEFORE starting your test. The test should take you 30-45 minutes to complete.
Once you begin your test, you must complete each event in order, within time limits, and without taking extra time between events. You will receive:

90-seconds for Push-up event
90-seconds for Sit-up event
3-minutes for Squat Thrusts event
Up to 10 minutes between each event for recovery and set-up of your next event

You will be recording your performance and uploading to the PST website for proctoring and scoring. Events will be scored within 1-2 business days after submission.
Choose a testing location that is quiet, private, and free from distractions. PST will require video recording of each event, and will need to be able to hear the audio above any background noise.
You will be required to upload and/or sign multiple documents in your PST account prior to testing. Documents must be received BEFORE you complete your PAT, otherwise your event will be considered invalid and will not be scored.

A copy of your government-issued photo ID. Your ID must show your full name, photo, and signature. Examples of acceptable ID include your driver's license, passport, or state-issued ID.
A signed Applicant Liability and Waiver Form, Test Security Agreement & Non-Disclosure Agreement.

READ ALL INSTRUCTIONS CAREFULLY AND FULLY REVIEW THE PREPARATION VIDEOS TO ENSURE YOU ARE READY FOR YOUR TEST.
COVID-19 UPDATES
5/6/2020 Update:
TESTING IN WASHINGTON STATE CANCELED THROUGH MAY 31, 2020
All pre-employment tests in Washington State have been canceled until May 31, 2020 unless government restrictions are eased. With recent updates, facility closures, and government guidelines, this step is necessary and could be modified at any time. The health and safety of our customers, our staff, and their families is of the highest priority.
We will continue to evaluate developments and make changes to this policy as necessary. When we do resume testing, there will be plenty of events for everyone to test. We are in regular communication with our public safety agency partners, assessing alternatives to the traditional testing model and our testing policies. Any future updates will be posted on the PST website and our Facebook page.
4/1/2020 Update:
If you have tested with PST in the past 12 months, there may be additional positions you are now eligible to add. Several departments have temporarily changed their testing policies due to the suspension in testing that COVID-19 has caused. Please login to your PST account and navigate to the 'New Positions' page to see what departments you can add! We will regularly update that page in your account as departments send updates.
FUTURE TEST REGISTRATION
We know that there will be testing in the future - we just don't know when! We want you to be prepared for when testing begins again so we have created test events on our calendar that you can register for that will place you in a queue to be first notified. These tests are not "real" test events, they are essentially a holding area. You will be able to "reschedule" out of that event to any other event date/location at no cost. Registering now will also give you time to work on your Personal History Statement (PHS) so that your data will be ready and up-to-date to send to your departments once testing resumes.
To sign up for this placeholder event, select the June 15, 2020 test date in your category (police, fire, 911 dispatch, corrections, etc.).
You may also click on the test event of interest below to sign up:
Law Enforcement & Corrections Written and Physical Ability Test
Please check back here frequently and 'Like' our Facebook page to stay updated.
PST staff are working remotely and are available by email at contact@publicsafetytesting.com. We anticipate a high email volume and will respond as quickly as possible.