Public Safety Testing
Study Guides & More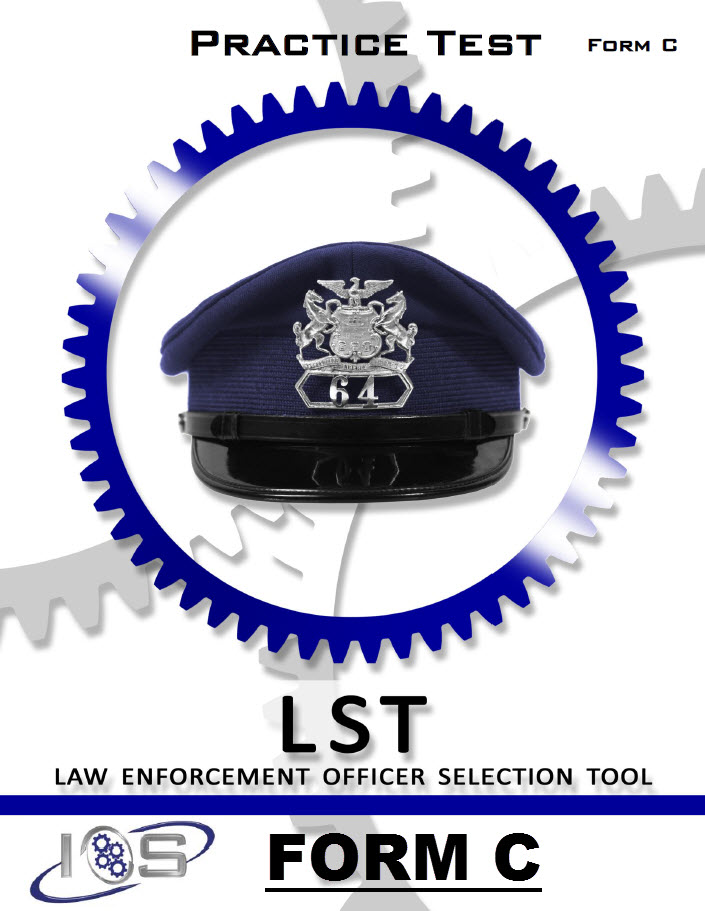 LST: Practice Test FORM C (for Law Enforcement & Corrections Officer Applicants)
This is Form C of the LST Practice Test.
13
***These are downloadable products. You can retrieve them from the "My Downloadable Products" menu in your account after purchase. No physical copy will be mailed. This product is non-refundable.***



Need more help studying for the Law Enforcement Officer Selection Tool™ (LST™)? The LST™ Practice Test provides you a 35-item diagnostic practice test, which is highly related to the actual LST™. Scores on this practice test will provide you a great amount of information regarding your likely performance on the cognitive ability section of the LST™. Your results can be broken down into the seven dimensions of the LST™, allowing you to identify your strengths and weakness so that you can focus your study efforts. The LST Practice Test was designed to accompany the LST Preparation Guide. The practice test provides a sample test and answer key but does not go into strategies for correctly responding to questions in the same manner as the LST Preparation Guide™.

Examinations can vary greatly in form and composition; therefore, we encourage you to be discerning about any other resources you may use to prepare for the LST™. This practice test was created specifically for the LST™ by the publisher of the LST™. No other source of information will be as informative or accurate concerning the content and construction of the LST™.

Use/Purchase Agreement

This Practice Test is intended solely for use by candidates/applicants who are preparing to participate in a testing process for a municipal, county, state or federal agency that will administer the Law Enforcement Officer Selection Tool™, herein referred to as the LST™, as part of its testing and selection process.

This Practice Test is intended for distribution ONLY to candidates/applicants as described above or to approved representatives of municipal, county, state or federal agencies in conjunction with the administration of an agency-approved testing process. Distribution to any outside parties is expressly forbidden.

Any use of this Practice Test for purposes other than those stated herein is expressly prohibited. This Practice Test contains copyrighted and trademarked content. The alteration, reproduction or distribution of this content through physical or electronic mediums is expressly prohibited. Violators will be punished to the fullest extent of the law.
You may download this product 5 times.
COVID-19 UPDATES
5/6/2020 Update:
TESTING IN WASHINGTON STATE CANCELED THROUGH MAY 31, 2020
All pre-employment tests in Washington State have been canceled until May 31, 2020 unless government restrictions are eased. With recent updates, facility closures, and government guidelines, this step is necessary and could be modified at any time. The health and safety of our customers, our staff, and their families is of the highest priority.
We will continue to evaluate developments and make changes to this policy as necessary. When we do resume testing, there will be plenty of events for everyone to test. We are in regular communication with our public safety agency partners, assessing alternatives to the traditional testing model and our testing policies. Any future updates will be posted on the PST website and our Facebook page.
4/1/2020 Update:
If you have tested with PST in the past 12 months, there may be additional positions you are now eligible to add. Several departments have temporarily changed their testing policies due to the suspension in testing that COVID-19 has caused. Please login to your PST account and navigate to the 'New Positions' page to see what departments you can add! We will regularly update that page in your account as departments send updates.
FUTURE TEST REGISTRATION
We know that there will be testing in the future - we just don't know when! We want you to be prepared for when testing begins again so we have created test events on our calendar that you can register for that will place you in a queue to be first notified. These tests are not "real" test events, they are essentially a holding area. You will be able to "reschedule" out of that event to any other event date/location at no cost. Registering now will also give you time to work on your Personal History Statement (PHS) so that your data will be ready and up-to-date to send to your departments once testing resumes.
To sign up for this placeholder event, select the June 15, 2020 test date in your category (police, fire, 911 dispatch, corrections, etc.).
You may also click on the test event of interest below to sign up:
Law Enforcement & Corrections Written and Physical Ability Test
Please check back here frequently and 'Like' our Facebook page to stay updated.
PST staff are working remotely and are available by email at contact@publicsafetytesting.com. We anticipate a high email volume and will respond as quickly as possible.